Enjoy your next sporting event while protecting your hearing health.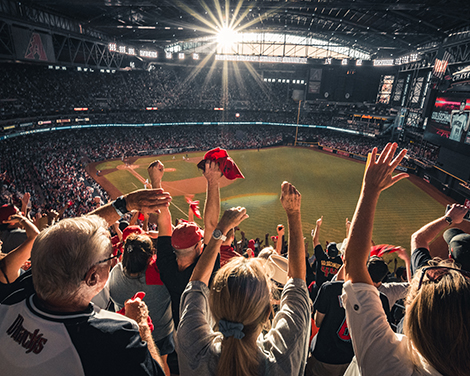 Fall is a perfect season to attend sporting events — there's nothing like bundling up in a flannel, setting up a tailgate party, and cheering on your team in the crisp autumn air. However, for individuals with hearing loss, these events can present unique challenges. The booming cheers, roaring crowds, and blaring music can be overwhelming and potentially further damage our hearing health.
In this article, we'll explore some tips for hearing loss care during sports events so everyone can enjoy the game comfortably and safely.
They include:
Bring hearing protection
Research accessibility accommodations
Make a plan for communication
Opt for seating with a good view
Take breaks if you can
Alternate live events vs. watching at home
Let's learn more about these tips for hearing loss at sports games below!
Bring hearing protection
The sheer volume of noise in a sports stadium can be overwhelming — in fact, the world record for the loudest NFL crowd measured 142 decibels! Even without such a raucous crowd, it can range between 85-110dB, which can pose a risk to your hearing health, especially if you already experience hearing loss.
To counteract this, invest in high-quality earplugs or earmuffs specifically designed for noise reduction. This way, you'll help filter out excessive noise while still allowing you to enjoy the cheers and the game's atmosphere. Disposable foam earplugs will work in a pinch, but it's worth looking into getting custom-fitted earplugs for superior comfort and performance if you frequently attend games in person. Learn more about your hearing protection options here.
Research accessibility accommodations
Before attending a sporting event, take the time to research the stadium's accessibility accommodations. Many modern stadiums are equipped with facilities and services that cater to individuals with hearing loss. Specifically, try to find out whether they offer assistive listening devices or loop systems to enhance sound clarity for people with hearing aids or cochlear implants. Larger stadiums display captions of announcements made over the loudspeaker, usually located on or near the scoreboard. Knowing what's available can greatly enhance your overall experience and allow you to enjoy the game without straining your hearing.
If you're a baseball fan, we've rounded up 27 hearing-loss-friendly MLB stadiums here to help you get ready for the postseason!
Make a plan for communication
Communicating amidst the loud roar of a stadium can be challenging, but when you're attending with friends or family, it's an essential part of the experience. Before the event, discuss communication strategies with your companions. Consider using smartphone apps for text-based communication if the noise level becomes too overwhelming for spoken conversations. Establishing a nonverbal communication system, such as hand signals or gestures, can also be helpful in staying connected and engaged throughout the game.
Opt for seating with a good view
When purchasing tickets, opt for seating arrangements that provide a clear view of the game (or the jumbotron) so you don't have to rely on hearing the announcer to understand what's happening. If it's within your budget, it's always a fun experience to be closer to the front!
Take breaks if you can
Taking short breaks during the game can give your ears a chance to recover from the continuous noise exposure. Use these breaks to step away from the loudest areas of the stadium and find a quieter spot to relax and unwind. This not only protects your hearing health but also allows you to recharge and fully enjoy the event. Some stadiums even have designated quiet spaces for guests, so it's a good idea to research this before you head to a game if you're interested in utilizing them.
Alternate live events vs. watching at home
If you find that despite your best precautions, you wind up feeling drained or like your hearing is muffled the next day after attending a sporting event, you might want to rethink how you enjoy sports throughout the year. Season ticket holders can switch to just attending one or two games a year and use their savings to upgrade their watching space at home. Modern technology offers high-definition broadcasts with closed captioning and adjustable volume levels, allowing you to follow the action in a way that suits your needs perfectly. Plus, check out these hearing loss accessories for your TV! Set up some comfy seating and invite friends and family to join the watch party.
With these tips for hearing loss at sporting events, you'll be able to enjoy the thrill of the game this season without compromising your hearing health. Next, check out some of our other favorite ways to enjoy fall!