Follow these tips to keep your devices safe and protected while traveling.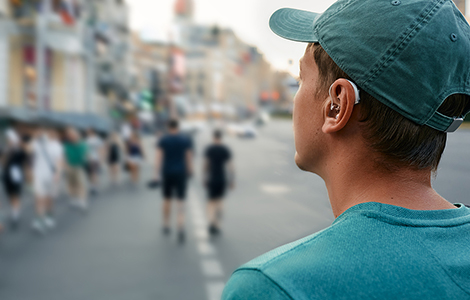 Whether you love to explore new cities and countries, find yourself on the go often for work, or enjoy frequent visits to friends and family, traveling can be a great experience. But when you're away from the comforts of home, it's important to develop new self-care routines. If you use hearing aids, your routine should include steps to protect and help keep them operating at peak performance, so they can continue to enhance your travel experiences.
Here are a few tips and tricks for traveling with hearing aids:
Bring an extra set of batteries
Invest in a special case
Keep your devices clean
Consider travel insurance
Pack smart
Have a plane plan
Let's explore these tips for traveling with hearing aids so you can make sure that your trip goes off without a hitch!
Bring an extra set of batteries
You don't want to be stuck in the middle of your trip with dead batteries, so it's always a good idea to bring a spare set just in case. Make sure to double-check that your batteries are fresh before you leave. If you're flying, make sure to store them in your carry-on bag, as the TSA doesn't allow lithium batteries in checked baggage.
Invest in a special case
No matter how often you travel, it's a great idea for hearing aid users to invest in a hard-shell case specifically designed for their devices. This will keep your devices from getting jostled around in your bag, as well as protect them from dust, dirt, and moisture. Take your case along any time you're out and about exploring. If you're a road-trip or weekend-getaway kind of traveler, it may be easiest to keep a spare case in your car.
Keep your devices clean
When you're traveling with hearing aids, it's important to keep them clean and free of dirt and dust. Carry a cleaning kit with you, and make sure to give your devices a good cleaning when you take them off at the end of the day. This will help your devices last longer and ensure that they're working properly. One of the simplest but most important things to have on hand is just a clean, dry towel or cloth you can use to wipe down your devices if they get damp or dirty.
Consider travel insurance
Before you go on your trip, you may want to consider getting travel insurance if your journeys are taking you to foreign lands. Review the policy to see if it extends to items like hearing aids or assistive listening devices in case they get lost, stolen, or damaged. If you can't find a travel insurance policy that includes personal device coverage, you may be able to get specific insurance for hearing aids (or have them covered under the manufacturer's warranty).
Pack smart
So far, we've mentioned a few of the items that should be on your packing list — but there are a few other accessories that will help while traveling with hearing aids! Learn about them in this article. Keep your luggage well-organized so you don't have to fully unpack your suitcase every time you just want to find an item or two. Be sure to keep any liquid items like shampoo or sunscreen away from your devices, as they can damage your instruments.
Have a plane plan
If you're traveling by air, you may have questions about the rules for hearing aids in the airport or on the plane. Rest assured: it's not an issue to wear your hearing aids through the security checkpoint and on the plane unless otherwise instructed. Keep your case easily accessible in your under-seat personal item, so you can safely stow your hearing aids if you'd like to remove them for a peaceful plane nap!
Now that you have a plan in place for traveling with hearing loss, it's time to brainstorm the rest of your trip! Here are seven tips for trip planning with hearing loss.