Shop confidently with these helpful hearing loss tips!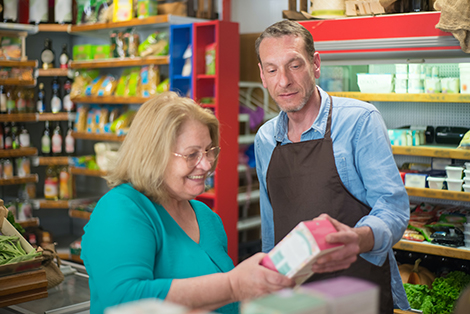 Whether shopping is one of your favorite or least favorite errands, it is a necessary part of life. Everyone needs groceries, clothes, and other life essentials (plus the occasional fun purchase, of course!).
That said, people with hearing loss often express anxiety over shopping. Between coping with a store's background music and communicating effectively with salespeople, shopping can be a less than enjoyable experience.
Fortunately, there are a few steps that you can take to make shopping less stressful. Here are some of the best hearing loss tips for making the most out of your shopping trips:
Use self-checkout lanes
Shop at small businesses
Try assistive listening devices
Plan in advance
Bring a friend
Use visual cues
Order online
Learn more about these hearing loss tips for shopping below!
Use self-checkout lanes
At bigger stores, a self-checkout lane can often be a relief for people with hearing loss. There is no need to speak with a cashier, and you can conduct the entire transaction on your own without worrying about communication issues. The process usually provides visual instructions right on the scanning device itself that are simple to follow — as long as your cart isn't too full or you're purchasing several items that have to be entered and weighed individually.
Shop at small businesses
Smaller stores, such as family-owned businesses, can be welcoming places for shoppers with hearing loss. Not only are there typically fewer people around creating additional background noise, but the staff may have more availability to accommodate your needs. Depending on the store, employees may be able to provide special services, such as assistance with finding products or checking out, that you might not get at larger stores.
Try assistive listening devices
Assistive listening devices (or ALDs) often have settings to support people with hearing loss in noisy or crowded environments, such as in stores. From small, Bluetooth-enabled earpieces to larger sound amplifiers, there are a variety of devices available. ALDs can be particularly helpful for one-on-one interactions, as they allow you to focus on what's being said without having to contend with other noises in the store.
If you use hearing aids, some stores have hearing loop systems that can send sound directly to your telecoil to help you hear things like store announcements. Look for signs that indicate Assistive Listening Support is available.
Plan in advance
It can be a good idea to plan your shopping trips ahead of time, as this can help reduce stress and make the experience more enjoyable. Start by making a list of the items you need, along with an idea of where to find them, so you can figure out the best place to start your shopping and avoid too much running around from store to store.
It's also a smart move to check store hours and determine the best time to go shopping. Stores that open early or stay open later may be more conducive to a successful shopping experience, as there are usually fewer people around.
Bring a friend
If you have a friend, partner, or family member who enjoys shopping, invite them to be your right-hand companion for the day! They can take point on communication, if that's what you prefer, while the two of you have fun exploring the latest trends or hunting for deals. Running errands together is a simple activity that can help you see one another more and strengthen your friendship.
Use visual cues
Many stores have signage or other visual cues that can help you find what you're looking for without having to ask someone. Look out for these cues while shopping. Most modern malls have interactive maps that point the way to the stores you want, and individual stores generally label their different sections with visible signs hanging from the ceiling.
Order online
Shopping online can be a great solution on days when you don't feel like dealing with the chaos of a brick-and-mortar store. Not only is it convenient and often cheaper (since you can compare prices and look up coupons), but it also eliminates the need to communicate with store employees or navigate crowds. Since many online stores offer free shipping and returns, you can buy what you need with the confidence that you won't be stuck with something you don't like. Your local stores may also have a hybrid option where you can order online and pick it up curbside.
It doesn't matter if you're preparing for your weekly grocery shop or a Black Friday bonanza — these hearing loss tips will help you have a smooth experience while shopping with hearing loss.
For more hearing loss insights and tips, keep reading the CapTel blog!