Stay cool and healthy this season with these suggestions.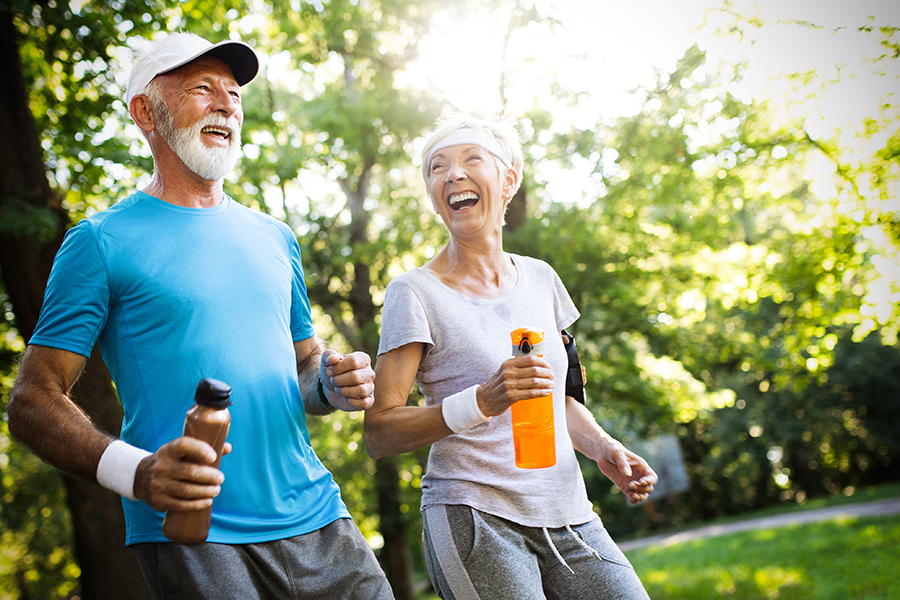 With the heat of the summer months on its way, it's a great time for a reminder about hot weather safety tips for seniors.
Spending time outdoors is a favorite activity for many during this season, but it should be balanced with awareness about how to protect ourselves from heatstroke, dehydration, sunburn, and other potential safety risks.
The good news is that most of these risks are easily avoided with these hot weather safety tips for seniors!
Dress for the day's forecast
Stay in a cool location during heat waves
Stay hydrated
Apply sunscreen to all exposed skin
Avoid strenuous activity
Be aware of medication side effects
Learn more about each tip below.
Dress for the day's forecast
Just like you might check the weather forecast in the winter to determine how much to bundle up, keep an eye on it in the summer too. In general, you'll want to opt for loose, breathable clothing made of fabrics like linen, cotton, rayon, and chambray. Long sleeves in a light-weight fabric can help shield your skin from harsh sunlight.
Pack a lightweight raincoat and umbrella for your day if a summer rainstorm is in the forecast. Hats and sunglasses are a wise idea to include as part of your summer outfit to help protect your eyes and ears from the sun's rays!
Stay in a cool location during heat waves
Heatwaves are generally defined as prolonged periods above 90 degrees Fahrenheit, especially with high humidity. If you notice high-heat days coming up, plan to stay indoors with the air conditioning running. Make sure you have a plan of where to go in the event of a power outage or if you don't have air conditioning. Many cities have designated "cooling centers" in public places like libraries and schools so visitors can stay cool there if it's not an option at home.
Stay hydrated
Dehydration is a particular risk in the summer when you're hot and losing water through sweat. Here are some tips for staying hydrated in the summer, like carrying a reusable bottle, eating fruits and vegetables with high water content, avoiding diuretics, and sipping beverages even when you aren't particularly thirsty. Want something with a little more flavor? Try these hydrating drink recipes too!
Apply sunscreen to all exposed skin
When applying sunscreen, most people remember to cover their face, neck, shoulders, arms, and legs. But there are a few areas that are easier to forget! Put sunscreen on and behind your ears, on the tops of your feet, your hands, any parts of your head that are visible (don't forget the part in your hair!), and your back (here's a hack to do it yourself if no one else is around). If you wear hearing aids, be sure to remove them before applying sunscreen to your ears as it can damage your devices. Use a broad-spectrum sunscreen that protects against both UVA and UVB rays.
Avoid strenuous activity
There are lots of fun outdoor activities for seniors to enjoy during the summer. During particularly hot days, it's usually best to avoid more strenuous things like hiking, biking, or kayaking. Instead, trade those for gentler (and less sweaty!) activities like a walk at sunrise or dusk while it's cooler out, going for a leisurely swim, or relaxing with a book on a hammock in the shade.
Be aware of medication side effects
Did you know that some medications make you more sensitive to sunlight? Check out this list from the FDA, which includes antibiotics, cholesterol-lowering drugs, and more. Ask your doctor if any of your medications are a reason to take extra caution in hot or sunny conditions.
Now that you're ready to safely plan your summer, check out these enriching summer activities like gardening, volunteering, and more!