Try out these fun, meaningful ways to volunteer with family.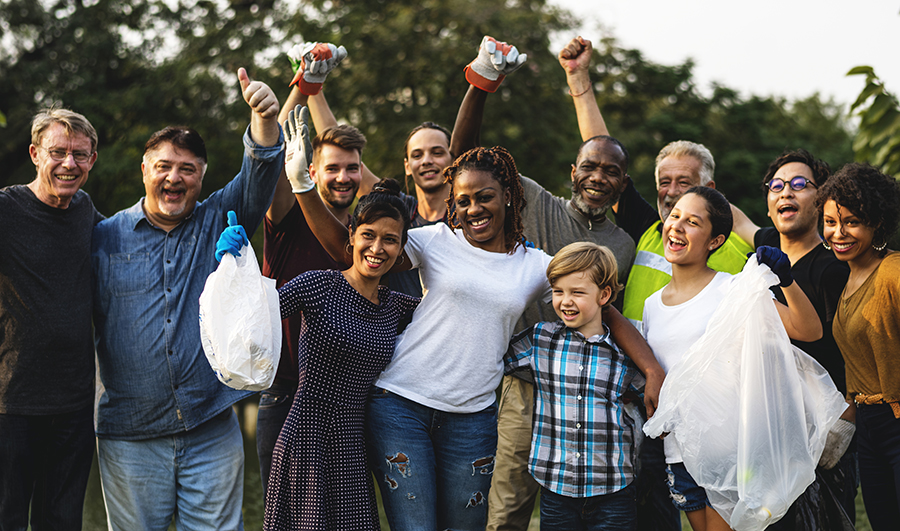 Spending time with family can be meaningful no matter what you're doing, but family volunteering ideas can make the time meaningful for your community too! Finding ways to volunteer as a family teaches wonderful life lessons like generosity, teamwork, gratitude, and more.
Let's look at seven family volunteering ideas to get your whole crew — no matter their age — giving back together!
Volunteer at a food bank or soup kitchen
Walk dogs or clean kennels for an animal shelter
Donate homemade crafts
Organize a community cleanup
Write letters or cards
Do a charity walk/run
Foster an animal
Keep reading for more details on these ways to volunteer as a family.
Volunteer at a food bank or soup kitchen
Providing food to those in need is one of the noblest things we can do. Whether it's serving a hot soup kitchen meal to people in need in your community or stocking shelves for a food bank, your family will walk away with renewed empathy for others and thankfulness for the food on their own table. Usually, these organizations ask for volunteers to be at least 12 years old and up, so this one's a great way to spend some time with your teen kids or older grandkids.
Walk dogs or clean kennels for an animal shelter
If you're a family full of animal lovers, reach out to your local shelter! They will let you know if there are volunteering opportunities you can do with your family. Taking a shelter dog out for a stroll on a sunny day is wonderful for their mental and physical health. If you choose this route, you should have confidence handling dogs and may be asked to do a training session with the shelter first. Kennel cleaning can be more labor intensive, but it makes a big difference to provide shelter animals with a clean, cozy space.
Donate homemade crafts
Got a hands-on, crafty kind of family? Consider options like knitting baby blankets for hospitals, crafting toys for shelter pets, helping residents craft scrapbooks at a senior center, making gifts or art for people in the military or cancer patients, etc. Reach out to your local hospital or charities to see what kinds of crafted items they could use or see if there's an ongoing crafting initiative in your community.
Organize a community cleanup
Whether it's just you and the family, or you put up fliers and recruit the whole neighborhood, community cleanup is a wonderful volunteering opportunity for a nice day! Beautify local parks, streams, beaches, hiking trails, or wherever your feet lead you. Just arm yourselves with some sturdy gloves and trash bags and pick up anything that doesn't belong.
Write letters or cards
Sometimes, a kind word is all you need to make a world of difference. Decorate cards to send to hospitalized children, holiday cards for service members, or notes of gratitude and gift cards for frontline workers like nurses. They all deserve to know that someone is thinking about them!
Do a charity walk/run
Charity walks and runs are a great family activity: they get you outdoors and moving, while raising money for a great cause. Check out some of these charity races, or join us in the annual Walk4Hearing event to support hearing loss causes.
Foster an animal
For those with the space, patience, and time to welcome a needy pet into their home, fostering can change a dog or cat's future. Fostering animals requires compassion, an understanding of animal behavior and potential medical needs, a pet-proofed home, and the right supplies. Your home could be the place where an animal will learn to trust, love, and play again!
Next, check out more ways to volunteer without even leaving your home.