Try out these technologies to improve your health and fitness.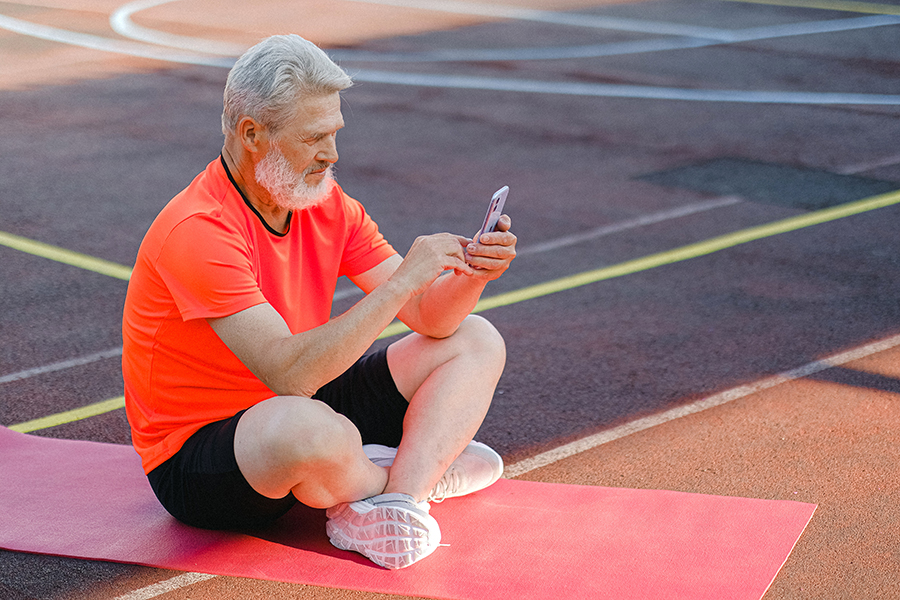 These days, there are so many great technologies to improve your health and fitness. Sometimes, it can feel overwhelming to implement new healthy lifestyle habits, but leveraging the right tools can help keep you on track while taking away the stress.
From exercise to diet to sleep, tech can help with just about any aspect of health!
Here are six technologies to improve health and fitness and achieve your goals:
Wearable trackers
Health & fitness apps
Smart exercise equipment
Sleep monitors
Smart scales
Hearing tech
Let's dive into these technologies to improve health and fitness and how to use them! As with any new health routine, be sure to check with your doctor to see if these gadgets are a good fit for you.
Wearable trackers
Wearables are all the rage these days, from smartwatches to fitness trackers. They're both useful and motivational — when you look at your wrist, it might remind you to increase your step count for the day or get your heart rate up.
The main difference between fitness trackers and smartwatches is that smartwatches offer functions beyond fitness: you can install apps, check texts, use contactless payments, and more. Of course, the specific features depend on which brand and model you get. Here are some of the top fitness trackers and watches to try.
Health & fitness apps
You can get health and fitness apps that connect to wearables if you have them, or ones that stand on their own! We wrote about seven health and wellness apps you can use to track nutrition and water intake, start meditating, take care of your skin, and more. Then, check out these nine free workout apps you can use if you're crunched for time and looking for a great workout.
Smart exercise equipment
You don't need to have an enormous home gym to get a good workout anymore! Sometimes just a few pieces of quality equipment can help you build a daily fitness routine you love. One option is "smart" home gym equipment, which can connect to the internet and even allow you to work out with other people. Popular smart exercise equipment includes Peloton bikes, NordicTrack rowers, Mirror fitness devices, smart treadmills, and more. If your budget or your space is a little tighter, look into smart jump ropes and weights!
Sleep monitors
Sleep is vital to good health, with benefits like improved immunity, heart health, and more. Some fitness wearables have sleep tracking functions built in, but you can also get specific sleep tracking devices. They let you know things like how long you're in each sleep stage, your breathing, heart rate, blood oxygen level, body movement, and more.
Smart scales
Health is about more than a number on the scale, and smart scales try to take that into account. The best smart scales on the market track not just weight but also things like body composition, muscle mass, and even heart rate. They generally sync via Bluetooth or Wi-Fi so you can track all this health data over a connected app.
You can also invest in a food scale if you're interested in precise nutrition tracking or like to make recipes that work better measured by weight (like many baking recipes).
Hearing tech
Lastly, hearing health is an essential part of overall health too! Some of the latest and greatest hearing technology includes biometric sensor tracking, Bluetooth hearing aids, vibration wearables, and more.
Please note that any name brands or trademarks listed in this blog post are property of their respective owners, and CapTel does not expressly endorse one brand or type of device over any other.
Want to stay up-to-date on hearing and health gadgets and other tips for living your best life? Keep an eye on the CapTel blog for more useful information.