These handmade gifts will let you show off your skills and wow friends and family.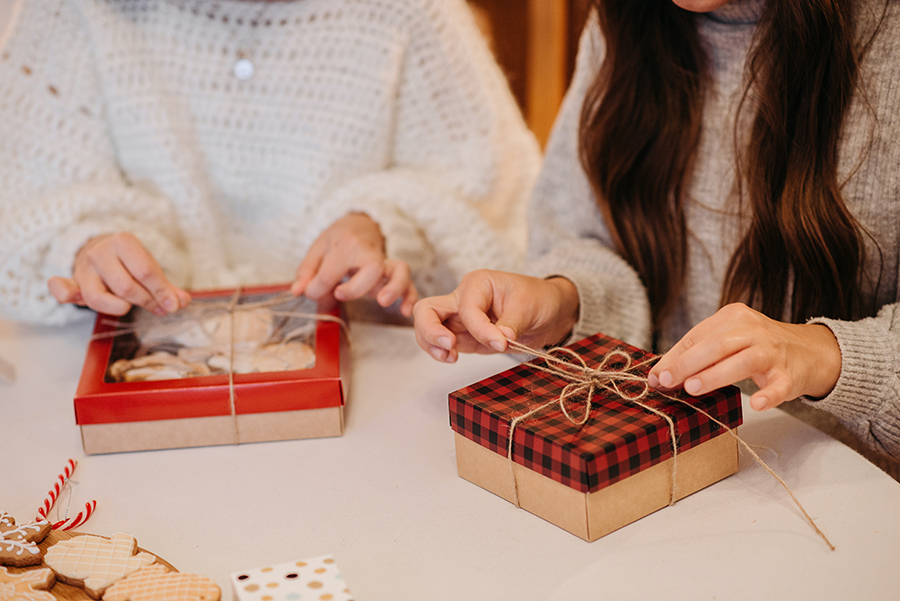 The holidays are a time to celebrate love, gratitude, and togetherness with the important people in your life. Homemade holiday gift ideas are a wonderful way to share your thoughtfulness and talents in a way that a gift card can't always do!
It's fun to choose different homemade holiday gift ideas for each person based on their tastes and personalities, and embark on the project of creating them.
Here are eight homemade holiday gift ideas to inspire you!
Home-gourmet sweets
Soap or lotion bars
Nut/fruit butters or jams
Custom ornaments
Potpourri jars
Homemade hot sauce
Sugar scrubs
Set of coasters
Let's dive into these fun, thoughtful ideas to help you celebrate the holidays in creative DIY style!
Home-gourmet sweets
No one will ever be upset at receiving a box or tin of delicious treats! If you're talented in the kitchen, the options are endless. You can make peppermint bark, an assortment of beautifully decorated holiday cookies, a box of homemade truffles, chocolate-covered pretzels or dried fruit, or whatever other recipes you're famous for! Package them up nicely with ribbons and cellophane, and you've got a perfect gift.
Soap or lotion bars
Soapmaking isn't too tricky once you have the right materials and know which recipes you like! Colorful, fragrant soap bars wrapped in pretty paper and ribbons will always be a hit. Check out these holiday-themed soap ideas, including gingerbread soap, peppermint bark soap, tree-shaped soap, apple pie soap, and more. Homemade lotion bars are another excellent gift for anyone whose hands get dry or cracked in the winter.
Nut/fruit butters or jams
There's a reason nut butters, preserves, and jams are common elements in gourmet gift baskets — they're delicious and an easy way to upgrade any snack! You can make fancy nut butters with a regular food processor, beautiful holiday fruit jams, or cozy spiced apple butter. Before giving these as a gift, be sure to consider any food allergies the recipient may have.
Custom ornaments
Ornaments are one of those gifts that will remind your friend or family member of you every time they're decorating their tree. You can make personalized photo ornaments of a favorite memory, embroidered flannel ornaments, colorful marbled bulb ornaments with swirled nail polish, map ornaments of a place that's important to both of you, and more. The list is endless!
Potpourri jars
Nothing screams "cozy holiday vibes" quite like a jar of potpourri. Grab a mason jar and start filling it with dried oranges, cranberries, spices, evergreen sprigs, and other favorite scents of the season. When your giftee wants their house to smell like the holidays, they just need to add it to a pot with water and simmer it on the stovetop!
Homemade hot sauce
Got a friend, relative, or coworker who can't get enough heat? Making homemade hot sauce is easier than many people think! The core ingredients are any chili peppers of your choice, from mild to mouth-singeing, some type of liquid (often vinegar), and occasionally oils, herbs, and spices. Here's the ultimate guide on making hot sauce! Then, take your gift to the next level by creating a fun DIY bottle label with an inside joke, a picture of them, a creative name, or a handmade gift tag tied with ribbon.
Sugar scrubs
Exfoliating sugar scrubs are a fun addition to anyone's shower supplies, and when you make it yourself, you can make any scent your giftee will love! Candy cane and gingerbread sugar scrubs are two excellent holiday choices.
Set of coasters
Help people protect their wooden furniture from water stains and give a memorable holiday gift in one go! Coasters are an ultra-customizable gift idea. If you're a woodworker, you can make gorgeous wooden coasters. A photographer can make personalized photo coasters. Other types of crafty people can choose from dozens of other ideas!
When it comes to homemade holiday gift ideas, your imagination is the best tool in your arsenal! Choose options that you know will be fun and meaningful to your giftee, and you'll be a star at holiday parties everywhere.
Keep reading the CapTel blog for more fun holiday ideas, including festive breakfast recipes, gifts for people with hearing loss, and creative, healthy ways to use holiday meal leftovers!