Enjoy an active lifestyle at any age.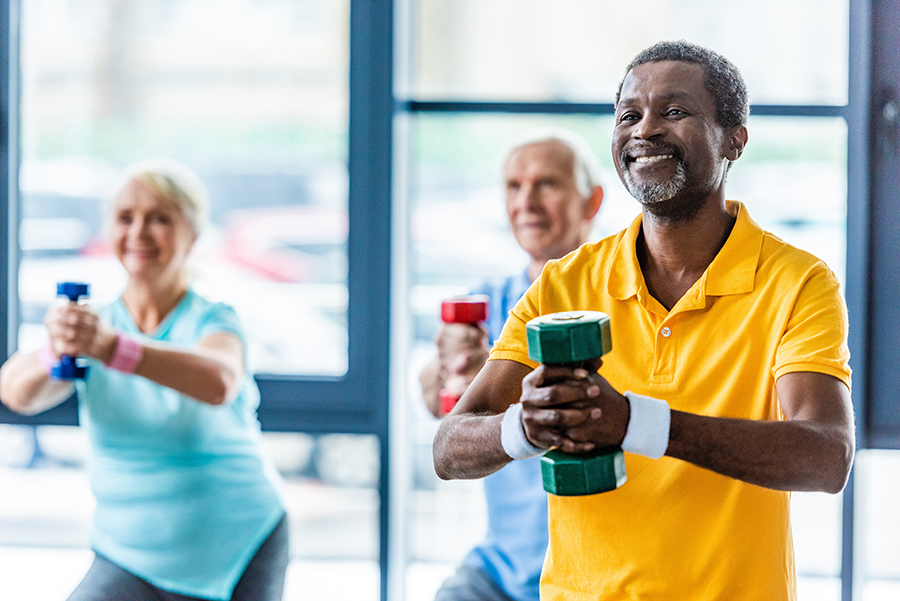 Active Aging Week falls on October 4-10 this year, but the best time for seniors to be active is all year round! One of the best ways to stay young (of heart, mind, and body) is to figure out how to stay active as you age. There are a variety of fun ways you can keep moving and enjoy the benefits of an active lifestyle!
Here are seven top tips on how to stay active as you age:
Set reasonable goals
Choose activities you enjoy
Take a class or organize group outings
Don't skip stretching
Build exercise into your day
Include cardio, strength, and balance exercises
Get your doctor's input
Let's dive into how to stay active as you age with these tips!
Set reasonable goals
While it's great to be ambitious, we don't recommend trying to break any records or master a new skill right out of the gate. If you're establishing a brand-new fitness regimen, it's best to ease into it to avoid over-straining yourself. Check out Harvard Health's tips for easing into exercise.
Choose activities you enjoy
Not every fitness or wellness routine requires exercise equipment or a gym membership! Do you love getting out into nature for a long walk, hike, or scenic bike ride? Are there children in your life who love to run around the yard? Could you spend all day on the water in a kayak or out in your garden tending to your plants? These are all valid (and fun!) exercise choices.
Take a class or organize group outings
Socializing has health benefits of its own, so you can combine two perks into one by exercising with other people. Whether you join a class to make brand-new social connections or rally existing friends to venture on a weekly walk, this can give your exercise commitments an extra dose of motivation and fun!
Don't skip stretching
It's essential to limber up before and after your workout, hike, or other activity of choice. Completing warm-ups before activities and stretching after keeps your circulation healthy and primes your joints and muscles for pain-free movement. Here are seven simple stretches to include in your daily routine!
Build exercise into your day
Exercise doesn't have to mean blocking off an hour or two for a dedicated workout or activity. It can be as simple as adding extra steps or movements to your regular routine! Here are some tips to naturally add exercise to your day, including choosing the stairs over the elevator and lifting weights as you watch TV.
Include cardio, strength, and balance exercises
Getting a mix of different exercise types will help ensure your fitness regimen is balanced and improving multiple areas of your health. Cardio is excellent for your heart and weight control, strength exercises help maintain muscles and strengthen bones, and balance exercises are fantastic at helping prevent falls.
Check out these articles for extra recommendations:
Get your doctor's input
It's always best to check in with your doctor before making any new lifestyle changes. Whether it's at your next appointment, over the phone, or virtually, ask if there are any activities or modifications they recommend based on your health history. For instance, if you have a heart condition, they may suggest monitoring your heart rate, so it doesn't increase above certain levels. Or, your doctor can let you know if a medication you're on may impact your activity level.
Excited about staying active as you age and making the most of your well-earned golden years? Make sure to browse the rest of our blog for more tips on senior living, health and wellness, and more!