Discover delicious ways to incorporate apples in each meal of the day.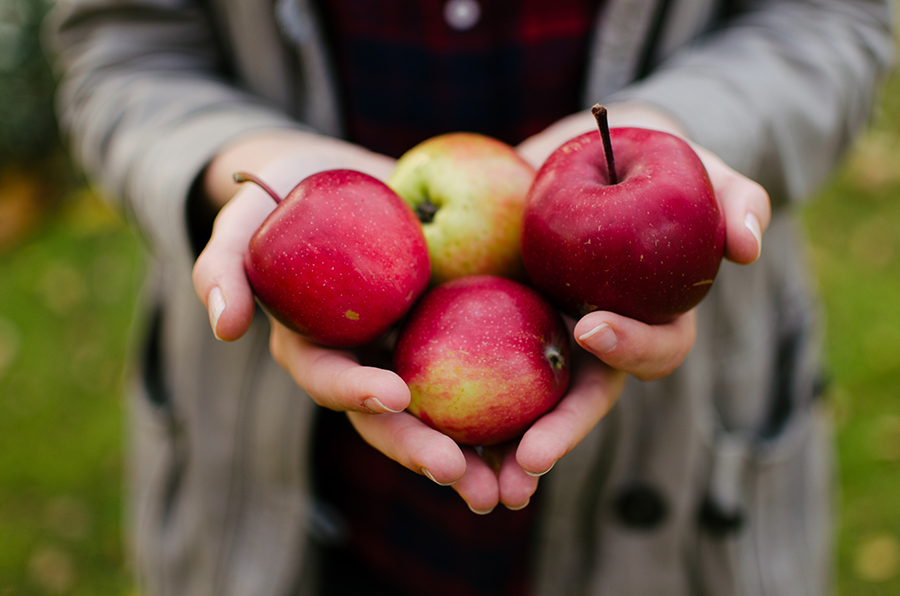 There's nothing better than whipping up delicious, healthy apple recipes in the fall. They're in season, and there are so many varieties to choose from. You've got sweet Honeycrisp, tart Granny Smiths, a nice balanced Gala or Jazz, and dozens more. All you have to do is (maybe literally) pick your favorites!
And we want to help you make the most of apple picking season by sharing some of our favorite healthy apple recipes!
Apple cinnamon oatmeal
Homemade applesauce
Pumpkin & apple soup
Fall harvest power bowl
Autumn-roasted apples & veggies
Cranberry pecan apple salad
Apple pie smoothie
Baked apple crisp
Let's dive into these healthy apple recipes with links, descriptions, and some health perks of each one below!
Apple cinnamon oatmeal
There's no better way to start a cool, crisp fall day than with a warm, hearty, comforting bowl of apple cinnamon oatmeal. It tastes like apple pie for breakfast, but is healthy too! Oatmeal is a great breakfast to keep you feeling satiated all morning, thanks to its high fiber content and a good balance of nutrients. Plus, oats have other health benefits like controlling blood sugar, giving you healthy antioxidants, lowering cholesterol, and more! See more healthy oatmeal recipes here.
Homemade applesauce
When you buy jarred applesauce at the store, it's just not quite the same as a fresh warm pot of applesauce made with fresh fruit. Apples are full of natural sugar, so for healthy apple recipes we recommend ones that don't include extra added sugar. The beauty of making your own is that you can customize it! Add as much cinnamon or nutmeg as you want, make it chunky or smooth, or serve it on its own or as an accompaniment to a meal!
Pumpkin & apple soup
Apples in a soup? It sounds a little strange, but it can be fun to get adventurous with food! This soup combines two of the absolute best fruits of fall. It's smooth, creamy, and warming for chilly nights or afternoons. Plus, pumpkin is highly nutritious, full of fiber, vitamins, and antioxidants!
Fall harvest power bowl
"Power bowls" always make a fantastic lunchtime option to help you stay energized and productive through the rest of the day. The basic idea of a bowl like this is to combine a nutritious grain like quinoa, brown rice, buckwheat, or farro; pile it high with apples, veggies, and greens; then slather it in a delicious dressing (in the recipe above, it's a very autumnal maple-tahini!). With healthy fats, fiber, and plant protein, a power bowl definitely lives up to its name.
Autumn-roasted apples & veggies
This healthy apple recipe makes a great side dish for any harvest gatherings or autumn holidays. It's such an interesting combination of flavors: sweet, savory, and a little tart, with crunch from pecans and a chewy bite from dried cranberries. Pure fall goodness!
Cranberry pecan apple salad
Even if you aren't a salad lover, there's no better way to munch down a bowl of leafy greens than with this salad that calls for sprinkling on handfuls of delicious toppings and mixing it all up with a tangy dressing. Cranberries, pecans, and apples are a fall salad topping match made in heaven.
Apple pie smoothie
Is it one of those unseasonably warm fall days where you just want something cold, but you're determined to keep celebrating autumn flavors? Or maybe you love a smoothie after you get home from the gym or a refreshing bike ride. An apple pie smoothie is an ideal answer! It combines a ton of harvest-time flavors like cinnamon, maple syrup, oats, flax, and almonds.
Baked apple crisp
As long as you go easy on less-than-healthy ingredients like sugar and butter, you can make healthy apple desserts too! Apple crisp is a great idea since the main ingredients are apples, oats, nuts, and spices. Coconut oil holds it all together, while maple syrup adds extra natural sweetness.
Excited to try out some of these healthy apple recipes this season? Learn more about the health benefits of apples and other popular fall foods!