Whether you're an East Coast resident yourself or are planning a trip from another region of the country, a trip to Charleston, South Carolina is always a memorable experience. This port city, known for its elegant architecture and stately palm trees, is the perfect combination of historical significance and modern convenience. Though more than 300 years old, this area bustles with people and enterprise, creating opportunities for both relaxation and activity for visitors.
If you are planning a trip to Charleston, consider making time for these five hearing-loss friendly activities that visitors of all ages will enjoy:
1. Gibbes Museum of Art
While in Charleston, spend some time enjoying the fine arts at the Gibbes Museum of Art. The museum features the work of a number of notable American artists in four permanent collections: 18th and 19th Century American Paintings and Sculptures, 20th Century American Regionalism and the Charleston Renaissance, Miniature Portraits and Modern and Contemporary. Visitors to the museum can also explore temporary exhibitions that feature themes such as animals in contemporary art or folk art in America.
The Gibbes Museum of Art is open Tuesday through Sunday. Assitive listening devices are available for visitors with hearing loss.
2. Drayton Hall
To see some of the best architecture that Charleston has to offer, plan a visit to Drayton Hall. Founded in 1738, this plantation home is the oldest preserved in the U.S. that is still accessible to the public. The structure contains a number of fascinating features, including a secret chamber, gardens and 100-year-old family growth chart. The plantation's African American Cemetery dates back to 1790, making it one of the oldest in the nation that is still used.
Tours of Drayton Hall are about 45 minutes in length and begin on the half hour. You can also embark on self-guided tours around the grounds if you prefer to see the estate at your own pace or are concerned about the noise level of a group tour.
3. The Battery
After a day of touring, enjoy a relaxing late afternoon with a walk around the Battery. This fortified seawall of historical military significance offers beautiful views of Fort Sumter, Sullivan's Island Lighthouse and Castle Pinckney. The promenade is additionally lined with breathtaking antebellum homes and features White Point Garden, where visitors can view old cannons and statues along the white oyster shell-lined paths. It's the perfect location to take photos for remembering your Charleston vacation.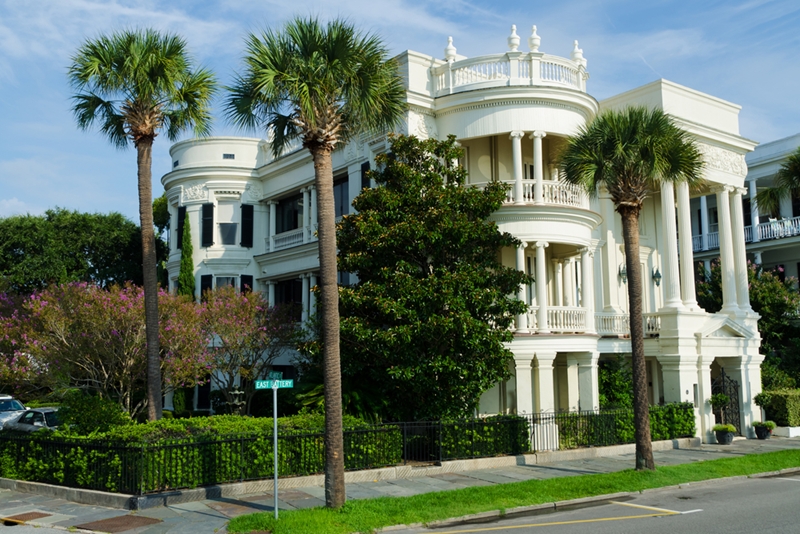 4. Patriots Point
History buffs will want to make time to visit Patriots Point, the home of the U.S.S. Yorktown, an aircraft carrier built during World War II. Today, the ship is in the Charleston Harbor and serves as the centerpiece of a naval and maritime museum established in the 1970s that boasts a "hands-on history lesson" to visitors. After touring the Yorktown, make time to explore some of the area's many other attractions, including the U.S.S. Laffey destroyer, U.S.S. Clamagore submarine, Vietnam Experience Exhibit and Medal of Honor Museum.
Audio tours are available for guests with hearing loss. Rentals cost $6 and include firsthand accounts from WW II veterans.
5. Walking tours
What better way is there to get to know a city than exploring it on foot? Charleston is home to a wide variety of interesting tours, with themes that range from significant Civil War locations to the city's historical pubs. Some of the tour types you'll find include:
Culinary
Plantations
Gardens
Historic sites
African American culture
Breweries
Beaches
And if you don't want to walk, there are also motorized tours that allow you to see the sights of Charleston from the comfort of a bus or other vehicle.
There are also audio tours available if you want to be sure you don't miss a single historical fact or interesting piece of information.