A progressive paradise of art, culture and cosmopolitanism, San Francisco is one of the most unique and exciting cities in the U.S.  With a year-round mild climate, rolling hills, a stunning bay and countless things to see and do, it's no wonder that San Francisco continues its reign as one of the most visited metropolises in the country.
If you're hoping to take a trip to Golden City and are living with hearing loss you'll be pleased to know that San Francisco offers plenty of attractions that are hearing loss-friendly. Check out some of the best below:
1. Coit Tower
For stellar views of the San Francisco skyline, visit Coit Tower. Built in the early 1930s on Telegraph Hill, the attraction boasts an observation deck that can be easily accessed via elevator. According to Time Magazine, the attraction is also notable for its collection of mural paintings inside the tower. The murals come courtesy of an array of artists and are a feast for the eyes, especially for art buffs.
The San Francisco Recreation and Parks Department oversees Coit Tower, and offers services for those with hearing loss such as captions on any programming and ASL interpretation if necessary. Before heading to Coit Tower, guests living with hearing loss are encouraged to contact the ADA program Coordinator for more information.
"For stellar views of the San Francisco skyline, visit Coit Tower."
2. Historic trolleys
Iconic images of San Francisco, the above-ground trolleys which navigate the hilly terrain of the city are not only a means of transportation, but an attraction in and of themselves. Visitors should hitch a ride on one of the trolleys designed to replicate the original 1920s design. These can be found in the Embarcadero District on the F Line. The cars have multiple stops, so it's easy to hop on and off and explore different neighborhoods. The trolley concludes its journey in the Castro District – a historic LGBT neighborhood that boasts countless stores, restaurants and bars.
3. The Golden Gate Bridge
Arguably San Francisco's most famous landmark, the Golden Gate Bridge is not only stunning to look at, it also provides incredible views. U.S. News & World Report explained that visitors can drive across the bridge, or for a more leisurely experience, walk or bike across.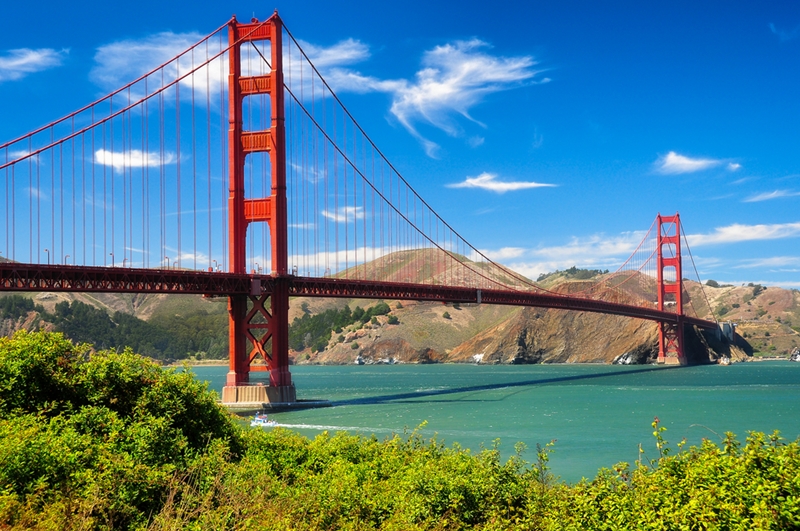 4. Alcatraz
No trip to San Francisco would be complete without a visit to Alcatraz, the famed former prison located on a wind-swept island in San Francisco Bay. Now a popular tourist attraction, ferries run daily to Alcatraz Island, which is overseen by the National Park Service. According to the NPS website, guests are free to explore the island on their own, or make use of the many programs offered by the National Park Service. For example, guests can take an audio tour of the cellhouse to learn more about the prison, while other exhibits and attractions explore diverse fonts topics such as the wildlife of the island, its historic military presence and so on.
Alcatraz is highly accessible for visitors living with hearing loss. Assistive listening devices are available upon request at the ticket booth, and there are also transcripts available of some of the popular tours upon request. All video programs have open captioning. For ASL users, special hand-held devices can be requested, which deliver the cellhouse tour in sign language.
5. Fisherman's Wharf
The hub of touristy San Francisco, Fisherman's Wharf has a lot to offer, including restaurants, bars, splendid views and the beloved Pier 39 shopping center. The wharf is the perfect place to pick up souvenirs and round off a memorable trip.