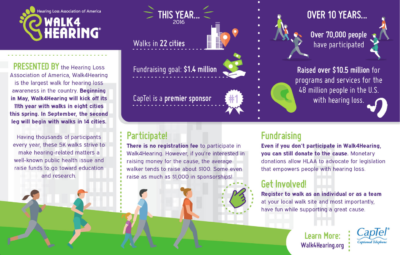 The Hearing Loss Association of America's Walk4Hearing kicked off its 11th year in Chattanooga, Tennessee, on May 14. Over the course of May and June, the Walk4Hearing will take place in seven more cities until the second leg begins in September. The fall Walk4Hearing events will last through Nov. 12 and reach 14 metropolitan areas, including New York City, Chicago, St. Louis and the District of Columbia.
According to the HLAA, the association established the Walk4Hearing in 2006 in a fundraising effort for the 48 million Americans who have hearing loss. The HLAA hopes to raise awareness and funds to support programs for people with hearing loss. In the first year, the HLAA raised over $300,000 at Walk4Hearing events.
"We're simply trying to change the world for the better for people with hearing loss," said Peter Fackler, HLAA's Board of Trustees former chair, in a video on the association's official website. "The walks have two purposes: One is to raise awareness, and the second is that we raise the dollars that are necessary to support the effort."
There are a few types of teams that participate in the annual Walk4Hearing. Families that are affected by hearing loss make up a large portion of walkers. Alliance teams, consisting of businesses and organizations that offer hearing loss-related services and community organizations like churches and hospitals also participate.
Funds raised
The money raised during Walk4Hearing goes toward a wide array of hearing loss-related services. The HLAA has directed these fundraising efforts to the following services:
Offering captioning and hearing assistive technology at HLAA chapter meetings.
Providing scholarships for students with hearing loss.
Supplying hearing aids for low-income individuals.
Installing hearing assistive technologies in public places.
Reaching out to veterans and parents of children with hearing loss.
Establishing HLAA chapters in cities across the country.
Advocating for legislation positively affecting people with hearing loss.
Maintaining HearingLoss.org, Hearing Loss Magazine, the annual HLAA Convention and other services the organization offers.
Walk4Hearing's goal for 2016 is $1.4 million. Before the first walk even took place this year, the Walk4Hearing events had already raised over $28,000.
If you're interested in walking in this year's Walk4Hearing, visit the official website and get involved! If you're participating this year, post a picture of yourself on Facebook or Twitter using the hashtag #CommAccess. This the Hearing Loss Association of America's campaign to remind people with hearing loss to show confidence when asking for what they need, like captioned telephones or assistive listening devices.