Seniors, like everyone else, are enjoying the user-friendly design of today's electronic devices. According to a 2013 study by Pew Research Center, 59 percent of adults age 65 years and older use the Internet, with 27 percent of seniors owning a tablet, e-book reader or both.
With their large screen size and slim design, computer "tablets" are simultaneously practical and entertaining, and can provide access to countless resources. Recognizing their usefulness to seniors, AARP recently co-created a dedicated tablet with Intel specifically designed for adults over age 50. Of course the AARP tablet, RealPad, is not the only innovation on the market. Apple, Amazon, Google and Microsoft all have comparable products that offer unique features.
It's not just the practical side of tablets that make them so appealing. You can also enjoy games, view photo albums or watch a streaming movie on a tablet, all with the portable convenience that a laptop or desktop computer just cannot provide.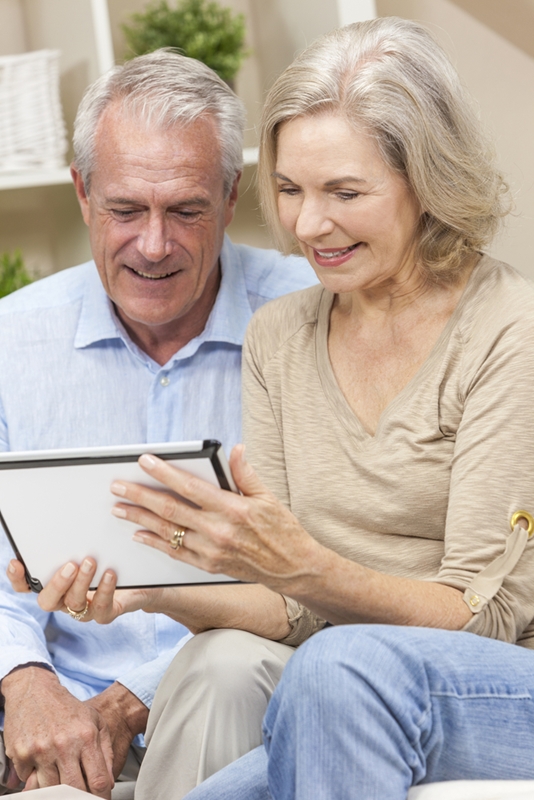 If you've considered using a tablet, here are some ways to consider that tablets may fit into your day-to-day life:
Cooking
Go beyond your recipe box and explore Epicurious and Food Network in the Kitchen, two of many recipe apps for tablets. These apps include thousands of recipes from chefs and home cooks alike. Recipes are rated and accompanied by photos as well as additional resources.
Gaming
Whether you prefer trivia games or traditional video games, tablets have gaming options for everyone. According to WebMD, certain video games have been shown to enhance decision-making, hand-eye coordination and auditory perception. Dr. Ezriel Kornel of Brain and Spine Surgeons of New York says users that improve at the particular video game to reap the most health benefits.
"Anytime the brain is in learning mode there are new synapses forming between the neurons," Kornel told WebMD. "So you're creating thousands of connections that can then be applied to other tasks as well."
Listening
Radio lives on through tablets. Apps like NPR, Pandora and TuneIn offer live and personalized radio stations for news, sports, music, podcasts and more. Tablets can be linked to sound systems or headphones as additional listening methods.
"Tablets are simultaneously practical and entertaining, and provide access to countless resources."
Medical/safety tracking
Sunrise Senior Living highlights three of the top apps for overall health and welfare: Well-Being Plus, MedWatcher and Red Panic Button. Designed as a daily calendar, Well-Being Plus sets reminders for appointments, outings and medication schedules, among other dates and important events. MedWatcher, created in partnership with the U.S. Food and Drug Administration's Center for Devices and Radiologic Health, is a virtual medical network for patients and health care workers. The app helps users track health and medicine news, side effects and drug safety alerts. As an additional precaution for seniors living independently, Red Panic Button ($2.99) alerts your medical contacts via email and text message in an emergency with the tap of a button. The app sends your GPS coordinates to your contacts along with the emergency message.
Reading
Books and magazines can be downloaded and read though reading apps. Amazon's Kindle and Apple's iBooks are two of the larger digital libraries. The size of text can be adjusted to fit personal needs. While the apps are free, the price of reading material varies.
Video chatting
RealPad, like many tablets, offer cameras for video chats. Whether using Apple's FaceTime or third-party apps like Skype, video chatting with tablets is a simple way to talk and keep in touch with your family and friends.
Video streaming
Video streaming apps Netflix (subscription needed) and YouTube are among the many options for watching television shows, movies and video clips. They are an easy way to connect with old shows and discover new ones. Some tablets offer services for buying movies so that you can watch films while traveling without wireless Internet.
NOTE: Applications recommended here are trademarks of their respective owners and are offered as suggestions only. Feel free to explore other applications and options on your own!